Welcome to the Rowsley Parish Council Website.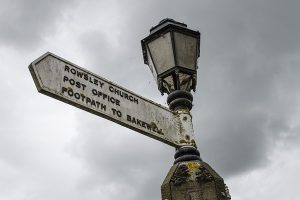 Here you will find information about contacting your local Parish Councillors, the dates and agendas for future meetings and the minutes of past meetings.
Meeting dates, agendas and minutes are available <here>
The Parish Council Calendar of Meetings and Events is available <here>
The primary contact for Parish Council business is the Parish Council Clerk
Details of the current Parish Councillors are available <here>
The Parish Council's Privacy Notices can be seen <here>
CLERK VACANCY
Applications are invited for the position of Clerk and Responsible Officer to Rowsley Parish Council. The post is to provide professional support in all aspects of the Council's work and to undertake bookkeeping for the Village Hall.
You will need to be computer literate, and competent in administration and basic bookkeeping. Also, be able to demonstrate good time management, organisational and communication skills. The hours of work are flexible, mainly from your home, but also attending evening meetings in Rowsley. The Council normally meets the 4th Monday of every other month.
Salary will be at NJC LC1 SCP 23 – 25 pro rata (£11.24 to £11.28), depending upon experience. The hours of work will be 30 hours per month. There will also be an allowance for use of telephone, internet and use of home as office.
Previous experience as a Clerk is desirable but not essential. There will be a full handover of duties and training and support will be provided to the successful applicant to help them carry out the post.
Apply via covering letter and Curriculum Vitae, with the details of two people who can be contacted for references, please state whether, or not, they can be contacted prior to the interview process. Please email rowsleyparishcouncil@gmail.com for a copy of the job description and person specification.
Applications should be returned to rowsleyparishcouncil@gmail.com. The closing date is 5th November 2018
Successful applicants will be shortlisted and invited for an interview in November 2018
For an informal chat about this position please contact the current Clerk, Sarah Porter on 01629 732365

COUNCILLOR VACANCY
There is one vacancy on the Parish Council.
The Parish Council will fill the vacancy by co-option.
If you require further information please email the Clerk (Sarah Porter) at rowsleyparishcouncil@gmail.com or on 01629 732365
A councillor job description can be found <here>